One of Canada's top Indigenous performers will be at the 76th annual Penticton Peach Festival.
Three-time World Hoop Dancing champion Dallas Arcand will do two shows, on Saturday, Aug. 12, in Okanagan Lake Park. Arcand is presented by Greyback Construction.
Arcand's last show at Peach Festival was in 2011. Since then he has performed multiple times at the Calgary Stampede and has taken his show to several countries including Mexico and China.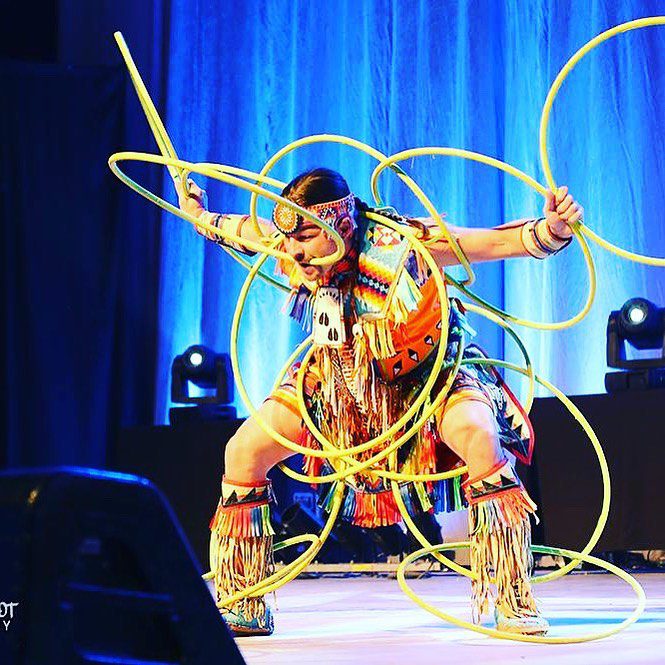 "We're really excited to have Dallas coming back for the first time in more than a decade," said Peach Festival President Shawna Guitard. "His dancing is incredible."
Besides being a world champion hoop dancer, Dallas has also won awards as an Indigenous flute player; is a much-sought-after keynote speaker; a fantastic storyteller; an anti-bullying advocate and he released a documentary film called Hoop Life which showcases and shares his story and the history and art of hoop dancing.
Peachfest is scheduled Aug. 9-13. Kicking off Peach Fest on Wednesday, Aug. 9 is Kim Mitchell, presented by Peters Bros. Paving, and Captain Tractor, presented by Grizzly Excavating. For Tim Hortons Country Night (Tuesday, Aug. 10) Aaron Pritchett and Matt Lang will take the stage. RE/MAX Tribute Night (Friday, Aug. 11) features Eagle Eyes, Arrival (a tribute to ABBA) and Dreams (a tribute to Fleetwood Mac). Two legendary rock bands will perform on Saturday, Aug. 12 with 54•40, presented by Peters Bros. Paving, and Doug & The Slugs, presented by the Penticton Lakeside Resort. Two of the B.C. Interior's top bands will take part in the 'Okanagan Rocks Night' on the final evening (Sunday, Aug. 13) of the 2023 Penticton Peach Festival – The Hip Replacements, presented by Brutus Trucks, and High Voltage, presented by Kettle Valley Memorial.